Improving your website during COVID-19
A website is a gateway for your customers, clients and audience to see what you have to offer! We have already discussed with you in a recent blog on why you need to have a website, so now we want to guide you on what you can do right now during a time where we have more downtime.
So, when it comes to website improvements and changes, what can you do to make sure you get the most out of your platform?
According to Hubspot, conducting a website audit is just one of the ways you can begin to start leveling up your website and it's content. It can also help with your SEO and overall website performance.
Let's take a look at some of the ways you can make your website attract more attention!
Content audit
A content audit is the first step you need to take for website improvements! A website audit helps you get insight into what you currently have on your site and what changes you need to make to improve it.
In a website content audit, you want to look at each page and record anything that needs changing from links to copy and keywords. If you aren't sure where to start when it comes to a content audit, sites like Digital Marketing Institute, have some great templates you can download for free.
Look at your SEO strategy
Another step to the website revamp is your SEO strategy. Do you have one, do you need it to be reviewed?
Maybe you need to add an SEO strategy to your business. Well, of course, this is the right time! But to get started with your SEO, look at your images, your keywords and your links.
Are your images described to match the content on the page?
Are your keywords up to scratch? Do they suit your niche?
Are you linking to other pages of your site in your content?
Making these little changes makes a big difference. Also, you can look at Ubersuggest. A platform that will give you your own SEO website audit!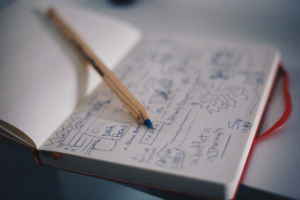 Look at your content marketing strategy
First question, do you have a content marketing strategy? A content marketing strategy gives you more clarity and insight into your content. Of course, your website is a hub where all your content is hosted.
So, what is a content marketing strategy? Well, it is a plan around your content. From social media to blogs and maybe even podcasts. It will give you more clarity on where you will show up and when!
If you want to learn more about content strategy, you can do so here!
Start a blog
Now is the time to make a start on up levelling your content! Maybe you have always wanted to start a blog? A blog not only helps with your SEO and how you show up on Google but it also (and more importantly) builds a connection with your audience.
So, what a good time to start educating your audience! A blog can come under your content marketing strategy!
If you are stuck for topics with your blog, you can write content on the education on your product or services. Remember to be engaging and educational.
Review your offers
Your website is your shop. It is where people can buy from you. So, are your products or services up to date?
Do you have some new offers you want to get on your website? Maybe you can use this time to write the copy for the website pages and get all the backend information ready for launch.
Make sure you collate all the content you need, so when everything is back to normal, and you are ready to promote your offers to the world, your content is ready to go!
Design
Now the most obvious, the design of your website! Do you have enough white space, does your design speak to your branding?
Review your design, and maybe it is time to think about a redesign or maybe a complete makeover! Of course, you can redo this yourself, or you can outsource the work to someone who can help you!!
Final thoughts
There is no better time than now to review your website. From your SEO all the way down to the design, images and text.
As we continue to be in lockdown due to COVID-19, now is a better time as any to review our current website and see what edits we can make to improve the overall appearance of the site and also the legibility for your audience.
Website content is important, so you also want to make sure you review it every six months to ensure it is always up to scratch.